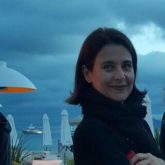 The film commission for Tuscany is one of the earliest being established in Italy and thanks to years of work, it has been able to turn few businesses into an integrated audio and video industry sector, characterized by its specific territory and the many professionals who cooperate with it daily. Stefania Ippoliti, the director of the film commission, is in Venice to give her contribution to the Venice Film Festival and to Italian cinema.
The film-worthiness of Tuscany needs no introduction. Tuscany's is one of the first film commissions to become an economic resource for its region. Tell us more about what you do.
We have been among the first, that's true, and we are lucky to live in such a beautiful, loved, and even famous territory. What we do is being efficient, welcoming, and able to provide the necessary services, delivering what film production teams need. What we also do is we foster the growth of an industrial fabric at the service of the audio/video industry – we are not the only ones doing that, but we do commit to always being ready for what productions need, which is a complex, stimulating challenge. There are vocations and businesses in Tuscany that have a natural inclination to adapt to what film productions need, like our crafts sector, fashion especially, and woodworking. Why not helping local businesses learn to work with film productions?
Another element is music. Tuscany is replete with excellent musical institutions, like the Chigiana Music Academy in Siena. We thought of workshops where musicians may learn to compose music to meet the specific need of the audio/video and cinema industry.
Performing and recording music are also, naturally, part of the process. We are setting up recording studios at the highest levels, which means we will be able to attract international productions to compose, perform, and record their music here, or any combination thereof. Tuscany can be competitive with international recording studios like those we can find in London. We don't race to the bottom, like they do in Eastern Europe, we want to compete in terms of quality, not price. The example of the city of Prato, as far as fabrics, dressmaking, costume making go, speaks volumes. We set up masterclasses and workshops to train professionals who already have a job – tailors, dressmakers, stylists, jewellery makers, and all other trades that may serve well a large productions – so that they can offer their services to them. One of the results that we were able to deliver, as an example, are the costumes for fiction I Medici. In the city of Pistoia, we are working on a shop that makes traditional scenography and that also employs modern technology like 3D printing. This makes us players in the fields of animation, advertising, and video games. For the latter, we are investing on Pisa as a centre of excellence.
We try to invest in those sector that historically represent the excellence of our crafts and adapt their offer to the audio/video industry both in terms of training and of production.
You were also in the board of the Italian Film Commission. What is the current state of affairs in your world?
We are now much more able to play as a team than we were ten years ago. Over the course of the last several years, we made much progress and the increased openness of localities allowed us to move forward. Oftentimes, the work of a film commission depends on the work of local authorities because it is a way for local government to impress their vision and their project. What I fear is our job being mistaken with local tourism boards. We don't promote local territories per se! Our job is different and while it can serve the territory well, we have a goal that is our own.
As Italian Film Commission, we try to look for new avenues and identify the vocation of individual territories in our country. What I have always suggested to my colleagues is to find local strong suits, the original features that make a given place unique. All our regions are beautiful and not only in landscape – that would be reductive. Cinema is an industry and in economic terms it is important to make sure productions do find it profitable to film here. Now that, with the ongoing pandemic, productions find unexpected budget items blowing up, we must focus on quality. I believe that this point of view is now common to many territories and regions, even though it is not as strongly impressed as I would like. We risk losing this awareness and this intuition. I truly am worried about that. It is essential that national law regulate our role as film commissions so that it be clear what our goals are.
After lockdown, what productions are you working on?
We got back to work on a series we love very much, I delitti del BarLume, that is filmed at Elba Island. The filming team is quite small, as is the island itself, and they know the territory very well. The team recently completed shooting and we are very happy about it. Since late August, director Giovanni Veronesi is also in Tuscany, working on the second episode of I moschettieri del Re, a complicated cloak and dagger production that will film with horses, swords, forests… It's quite the challenge. The crew are amazing, though, and so are management. On our side, we mediated an agreement with local hospitals so that everyone involved can get a rapid Covid-19 test on the set.
So far, so good. Other productions are planning their work here. I believe Italy is doing a good job to keep the virus at bay – more than other European countries, at least – and I am sure that things will be back to normal soon.
We are very grateful to the Venice Film Festival, a historical edition that we are so glad took place in person – it is really comforting for us. And more generally, Italy overall proved what it can do under pressure. We should be proud of that.
Notice! The coolest gadget at the VFF is the stylish face mask by TFC, each different from the other and made in Tuscany by local shops.